kid
Member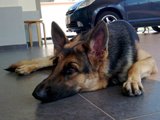 Nov 21, 2006, 1:42 AM

Post #10 of 38 (3954 views)
Shortcut

Re: [isaac] looking 4 a german shepherd!!! [In reply to]
Can't Post

---
i'm also looking for a GSD with MKA, can any1 pm me or sms me the number? Once my house ready at year 2007, i wanna have one GSD pup. working or showline also is ok. but i heard working line dun have so much problem, esp on the hip, not sure, newbie here... but show line also expensive if i'm right. My budget is RM1500-2500 for time being. Might go up or down, depends on year end bonus :)

But i really no idea how to range GSD from RM700 - RM5000, i see no diffrent also... sorry, again i'm a newbie

i can b reached at zero one two, four seven two, seven two two five.

Thanks in advance.