SupaMolly
ALPHA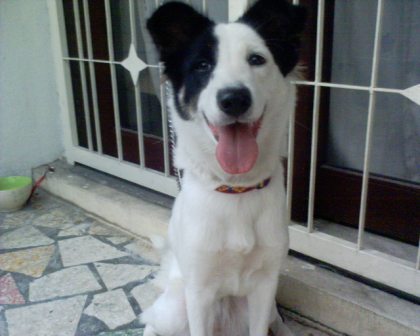 Aug 6, 2006, 7:15 PM

Post #11 of 26 (20720 views)
Shortcut

Re: [kunamiya] Looking for a Rough Collie [In reply to]
Can't Post

---
oooohhh wow!

i love rough collie ! they are beautiful, smart, and elegant!

but is rare to get a rough collie here in msia rite.. where u import him?

any pics of ur cutie???

ya since my pup HATES the cage, i let her wander around in my house too.. but end up pee/poo everywhere !

so, since u good in training dogs, are u a trainer ? maybe we can train our pups one day using ur technique lol

i even let my cutie wander in my bedroom and sleep with me, so tat she doesnt make a lot of lonely noise, and i can have some sleep also... cos if i leave her outside my room at night, she will howl lonelines.. so lo scared she disturb everyone cos i stay in condo.. BUT i scared she will pee/poo in my bedroom.. do u think she will ?

any useful advice?

i would like to see your rough collie one day.. sure great fun !




My beloved Molly looks like MooMooo

My beloved Snoopy makes 1 of the funniest beagle in the world

My beloved Lassie is the teh-est sheltie although he is a male !





Molly Gal : 16 June 2007 | Snoopy Zai : 4 Jan 2010 | Lassie Zai : 23 April 2010

| Husky Zai : 24 Jan 2010
------------------------------------------------------------------------------------------------------------------------------------------------------------


Photography Business Website coming up soon ^^




(This post was edited by SupaMolly on Aug 6, 2006, 7:19 PM)