Amanda85
Doggyman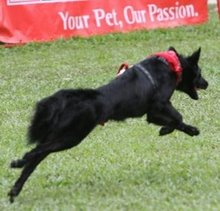 Aug 25, 2005, 1:17 AM

Post #32 of 181 (68300 views)
Shortcut

Re: [minglmy] Malaysia Responsible Dog Ownership Day, September 11, 2005 [In reply to]
Can't Post

---
Wei amanda,

luck no luck also MUST TRY mar ... eh its an IPOD wor ! LOL ! ...

well, for games too bad i can't join lor (join also no use... minpin sure lose coz not greedy one) but its fun to watch also hahahaa.... pacco can eat lots ar ?



my aim for joining a games ofcoz is not for winning purposes lar....

as u know, i join so many games wit kinki before, but didn;t even win once....



the main thing is to have experience in participating mah.....can boost up my self-esteem....



pacco is like a bandaraya.... eat whatever stuff tat was given to her...... just hope that during tat day she will be like her ownself.....



Pacco de Mongrel
~ Come and join us for a doggie jungle trekking @ Bukit Gasing every Saturday morning ~