carienna
Canine Addict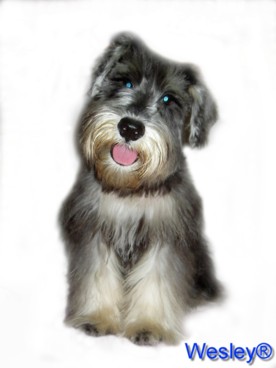 Mar 15, 2005, 6:19 AM

Post #66 of 113 (1204 views)
Shortcut

Re: [my_dawg_daisy] R there any schnauzer breeders in Malaysia with websites? [In reply to]
Can't Post

---
hehe!! By now, Kiko gave birth too and I have MORE puppies!! haha!! You wanna hear something funny? I was having dinner outside with my bf last weekend and my mum suddenly called and she said she got something funny to tell me.. so, this is what happened..

BearBear was 3 days overdue and gave birth to her puppies on 9th March... 8 of them but 1 die at birth so there was a total of 7 puppies. Then on Sunday evening(13th March), as usual Dad called Bear to come over as it is the feeding time. Bear came over to Dad after calling for several times.. (usually Bear will run over once you call her)... and Bear was in a very dirty condition.. play with mud.. guess Bear went digging hole in the garden.. Dad scolded Bear and cleans her up, then let her feed her puppies.. Dad went in the house to make dinner for Bear and when Dad return, Bear was gone, leaving all the puppies there! Dad called Bear but Bear refuses to come over. So instead, Dad walked over to find Bear and noticed there was a puppy beside Bear, and the puppy was very dirty! Dad quickly take the puppy inside to clean, but then noticed... there were already 7 puppies in ... so how come there's another extra one?!

After cleaning, then only Dad noticed the pup is a new born and thought Kiko gave birth.. went to see Kiko but it wasn't Kiko.. as there is no signs still... and this means this dirty puppy that Dad found was Bear's puppy which came out only 4 days later than the rest of them and it is tiny compare to the rest! hahaa!!



Later that night, Kiko give birth to 8 puppies.. thus there are now 16 puppies!!!! and we mix Bear's new born puppy with Kiko's cuz it is small... hee hee!!

So far the most puppies that my GR had ever delivered was 9 puppies.. and that's like really a lot you know? You see how big her big big stomach is.. phew.. seems like very hard to walk...

You are interested in having a GR as well?

How old is Meeko? Now only going for last jab? There is a brand that my vet uses for the vaccination.. saying that it is a 7 in 1.. but then you know what.. after the vet came vaccinate my puppies, it left a lump there!!! and when I asked, he said that there's nothing to worry about and I should rub on the lump til it goes off! I am sure there is something wrong.. I mean the lump is hard and kinda big.. like a guli in my puppy's body you know?!



6 in 1 is pain? hee hee... but then I think it wont be as pain as the time when we inject the microchip in!!!! The needle is so so fat...! I attach here a picture of the microchipping needle.. and beside it is a o.5mm pencil lead..



Diamond looks nice but she barks nonstop and Dad don't really like her lor..

Other than that, she's all alrite.. and I like her natural standing ears! hee hee

Erks, dog zoo? you referring to my house?! hahahahaha!!!






Golden Retrievers & Miniature Schnauzer are SIMPLY the BEST!!!!!!!