shlee
Doggyman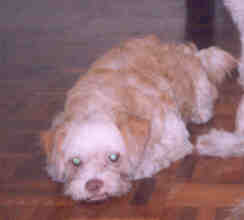 Oct 21, 2004, 4:19 PM

Post #253 of 286 (7326 views)
Shortcut

Re: [lovedoggies] "Finding MiMi". Pls help!! I miss her deeply... [In reply to]
Can't Post

---
My dogs ah.....they are very lazy to learn trick one. My bf used to train one of my dog Chai Chai for shake hand. But end up he learnt to use his hand to kacau us when he requested to eat and to play with us!

He misunderstood what bf tried to teach him



U know what, few days ago, i was really scared to lose my Chai Chai. My mum feed him a fish. Then suddenly my Chai Chai looked like very suffering, something stuck in his throat! I was really scared, and dunno how to help him. It was already 7:30pm++, i'm sure all the vet has closed shop already.

Then, my mum and my bf tried to massage his throat. Finally and luckily, he seem fine later.

I was so scared until dunno what to do, luckily my mum and my bf were clam enough to help my dog. I think the fish bone has stucked in his throat.....

If anything happen to my dog again, i think i will get crazy!




*****Pls help to look for my MiMi (refer to my avatar for her pic)*****
*****MiMi, where are you now? I miss you.....*****