Vince7
Dog Kichi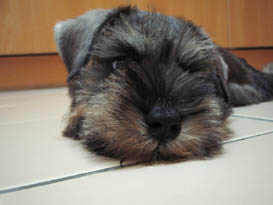 Dec 23, 2004, 11:20 PM

Post #25 of 113 (2644 views)
Shortcut

Re: [carienna] R there any schnauzer breeders in Malaysia with websites? [In reply to]
Can't Post

---
First of all, thanks to carienna, chnyuppie & JuStiN'doGgIe for answering my questions.


Sorry ar.. Gus-Gus, for straying out of the subject.


The reason i ask the 2nd question is bcoz i saw somewhere in internet that says MS is one of the least smelly dog breed. I'm sure all doggies hav doggie smell la... like chicken hav chicken smell & hamster got hamster smell... maybe MS not that smelly compared to er... bull dog maybe? hehe.. not that i mind the smell, it's my girlfren actually. She very hygene one & a bit allergic loo... must be "xin li zhuo yong" only.


I certainly won't leave my doggie alone or caged at home for long hours loo... i'm quite confident MS is suitable for my lifestyle & environment. Actually my other dream dog is bull terrier... but now is not suitable la...
Wow... 5 cute puppies! Congrats to you Carienna. New born puppies are the cutest...remember to shot lots of pix coz they grow up very fast one.. hey, i'm Penang lang oso but now working in KL. What color is your puppies ah? I can only view one of the pix (Carie-s MS.jpg), looks like black color. i oso noticed the puppy's tail is still long le... u plan to dock it?
Cheers!


"A dog is the only thing on earth that loves you more than he loves himself." -Josh Billings