Kevin Chuan
ALPHA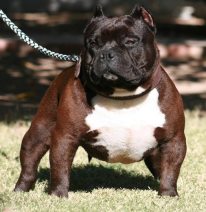 May 27, 2005, 9:24 PM

Post #65 of 96 (18456 views)
Shortcut

Re: [glng675] American Staffordshire Terrier [In reply to]
Can't Post

---
Hey glng675,

Please see the post from me to ERN on page 2..., a few main description on the 5 different breeds that under this terrier group.

Please do compare your PB with Jack_MBT 's AST, then you will find that there r lots of different between urs and his. APBT will look more alike to AST (I meant the UK registered APBT) as they are actually the same breed. But the APBT (US APBT for dog fighting) will be totally different from AST, but their size are THE SAME, is just that the head are smaller or may be I should say... look more even to its body size where AST or UK APBT are oftenly seen in huge head. I can actually make a statement like this...; You might be seeing an US APBT by the road side or "BAN SAN" and u may just thought that it is a mogrel dog.

The PT like urs are the biggest in this "confused terrier group", but usually they looks thiner than APBT, AST, ASBT, ST compared to its size... and not too stout tough. However, this PB are very cheap around RM280.00 to RM400.00, anyone who sell above this price are the one that " Bor Chai Han Cheng " and my advise to you is... this PB will be a good guard dog, but if you want to breed this you may not gain money as their price are so low.

I sincerely invite you to join us to be the FUTURE BREEDER for AST and UK APBT, I wish to promote this breed to the public that AST IS NOT A DANGEROUS BREED IF YOU DON'T TRAIN THEM FOR FIGHTING PURPOSES.