Kevin Chuan
ALPHA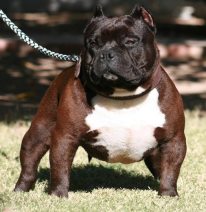 May 20, 2005, 8:17 PM

Post #45 of 96 (15030 views)
Shortcut

Re: [ERN] American Staffordshire Terrier [In reply to]
Can't Post

---
Hi ERN,

There are 4 different breed that look alike;

1. Staffordshire Terrier (from UK) head smaller, size smaller about H17", W34pound, price around RM3500.00 to RM4000.00 depends on the marking, THIS IS THE ONLY MKA for staffordshire.

2. American Staffordshire Terrier (Crossed between Brirish Bull Dog, Staffordshire Terrier and maybe APBT) breed standard eye must be black, tail cannot be too long, H18 to 20" W38 to 40pound, head BIG. Price for this breed should be around RM1300.00 to RM1500.00 if the marking is nice, if not it should be around RM1K +-

3. APBT are oftenly seem in smaller head compare to AST, as the american breed APBT are for dog fighting, they do not want a big head APBT because this will make them too heavy, their Height is 17 to 19" and weight should not more than 36pound, price should be high if is from good blood line like Hammer Head, Jeep, Old American Red, Mid night, Chinaman and ETC around RM1800.00 to RM2000.00

4. Pit Bull Terrier, this is the largest amoung the above, their legs are longer but not too stout if compare to AST or APBT, this is the most common breed called as Pit BUll in Malaysia, the price for this dog should be around RM280.00 to RM400.00

One of my AST died 3 weeks ago due to wound infection, very sad and I'm looking for a male pup, kindly call or SMS me if you have any contact that might have AST. Thanks and T.E.L. number is 0.1.2.4.8.8.5.1.80..........