KEIDOU
Member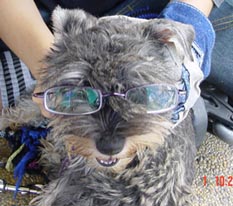 Jan 3, 2004, 7:03 PM

Post #96 of 119 (2859 views)
Shortcut

Re: [ai_ney] Dog LOST in DAMANSARA HEIGHTS [In reply to]
Can't Post

---
wah...u have so many doggie n animal.....my mom will kill me if i keep so many.... last time i keep many kinds of animal too...now only have two doggie n fish.i had bird ,rabbit ,guinea pig,cat,dog,turtle,..
it is bcoz ancom scare cant find his master so he want to go out find his master... maybe sometimes , when a dog is getting older, they will find a place for their "forever bed"(heaven). old dog ...a good dog wouldnt die in home... they will find chances to go out...n they have many strange habit bfore GO.
so take care more to the dog that stay wf u for 10 years...
good luck....
one day, when i m not at home . my mom forget to close the wodden door, my Frijol go out from a small hole. thank god.... almost cry to hear she get lost,then she only go to the top 21th floor. then i never let her run away again!!!


KEIDOU


ALWIZ BE NAUGHTY!
BE FUNNY
BE NAIVE

.'"'..
'
( '0' )_!)
' '
LL_ *_J