shlee
Doggyman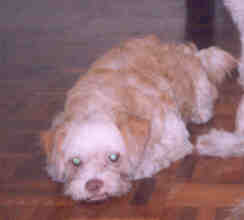 Dec 19, 2003, 5:25 PM

Post #43 of 83 (2379 views)
Shortcut

Nancy,

I don't think ur Pui Pui is already dead in an accident. She is stolen by someone else, so she should not have the chance to go out and even met an accident! So, dun worry, i think this is not true! Did u try to prove it? Who told u the bad new? Maybe somebody saw ur flyer and just wanted to play a fool with u!

In fact, i also used to receive 3 calls before, who said they saw my MiMi. However, when i reached the place they mentioned, i can't see any dog there. And there are nobody picked up my call already when i called back the number.

There are actually such an idiot in the world, like to play a fool with a person, who is actually in sad and worry. They are a stupid idiot!

I'm not sure what time i will reach SPCA tomorrow. It all depends on my bf. But i will definitely drop by Puchong Pound, Puchong Vet and PAWS by tomorrow, coz they are near to where i'm staying. For SPCA, i know it will be closed around 4pm, so if i have time, i will go there. Hopefully the traffic tomorrow is not bad! Just afraid the way to SPCA from Puchong is very jam!!!!!




*****Pls help to look for my MiMi (refer to my avatar for her pic)*****
*****MiMi, where are you now? I miss you.....*****


(This post was edited by shlee on Dec 19, 2003, 5:31 PM)