jacksontan
Novice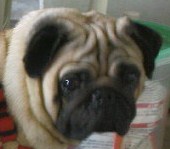 Jun 4, 2008, 4:49 PM


Views: 12914

Re: [ai_ney] PUG - SKIN PROBLEMS - PLS ADVISE

---
malaseb ?..i will check it out. I used to use my own body shampoo like 'dove' or 'dettol' brand for like 7 mths.
But i have stopped it coz it's hard to rinse off ( due to moisturising elements in it ). Now i just use the medicated soap bar found in tesco, I liked the smell and it seemed to reduce ben's dog odour. ( not sure if it's due to allery to the soap bar though bcoz Ben been using for months and all this started after the 6 days boarding when I went overseas.
Anyway, looking forward to bring ben outdoor for the first time but after all the dried skin fall off first.
Think I'll bring him to a basket ball court nearby and let him fly..haha.


Btw, on Monday, Ben opened his cage's door on his own and was free roaming in the apt until I came home at 8pm. (Now i use a padlock )

I was quite impressed that Ben did his biz ( big & small ) in the toilet on his own. Thank god it was not in my store room or the spare room. But he did pee 2nd round just outside of the toilet door...maybe I will give him training again to see if he can be let out from him cage day time.



Finally after 1 year..he did something right..




(This post was edited by jacksontan on Jun 4, 2008, 4:56 PM)