leecy
Ultra ALPHA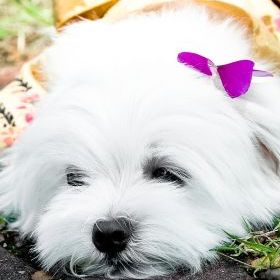 Oct 17, 2007, 11:57 AM


Views: 1497

Re: [staceymay] I'm back! new member on board!

---
Yah, once a while i do breed them and show them as well. One of my maltese, name Angel is the Top Maltese for Year 2006.

Well, I don't really thought that handling all of them is difficult, although it is a handful of them, but me & my gf spend most of our time at home with them. I believe that most of the dog owners will have to go for study or work, and left not much time for their dogs but for us, i believe that we spend more time with our dogs compared to others who own only 1 or 2 dogs. We are commited to our pets, hence we give up to study at oversea, we complete it in Malaysia instead. Also, we have do not have the chance to go for holiday that takes many days and more dogs meaning less leisure hours. We go into pet supplies & work on our own at home so that we can spend time with them while working. We thought that's worth it since it is a pleasure to do what we are interested in.

It wouldn't be messy at all if you train the dogs since young and keep the house clean. Most of my maltese already wee wee pad trained, meaning they will always go to the back & pee on the wee wee pad. We always welcome visitors and most of them will spend hours at our home, as they feel comfortable to be at our home. This is my home, the dogs are my sons & daughters, visitors are not visiting a dog farm, they are visiting my home, hence I want them to feel at home.

Although we are able to handle a handful, we do not believe that raising 100 dogs is a good thing. We might be able to give them good food & make sure it is hygenic, but how are we going to provide them with sufficient love? Also, they would have to be caged! Which is a BIG NO! for us, as we do not believe in caging our dogs, we believe that the most important thing to provide the dog is freedom.

I do understand why certain people hate breeders that much, since me myself have visited many breeders and i'm pity of those dogs, too! But to us, rather than saying we hate them, we choose to goes into breeding and strive to produce best quality puppy, which i had achieved and striving to be even better. We do not cage the dogs, we provide them with the best food, they stay at where we stay and we really love them like our own kids. This give a choice to the buyers.

But buyers must do their part too. Too many people out there looking for cheap source of puppies instead of good breeders. They will keep both of their eyes shut by choosing to ignore the bad living environment of the dogs and go ahead purchasing a puppy which is cheap. It ends up they are supporting them. Visit more breeders and only choose to buy from breeders who treat their dogs nicely. If nobody buys from breeders who kept their dogs poorly, then these breeders will have to upgrade to what people wants or forced to close down.

Although I do breed my dog, meaning I am a so call breeder, I do not feel ashame and i feel proud of it. To me, i hate lots of dog owners who do not do research before purchasing a dog too! One of my nearby neighbour trying to teach a dog to sit for more than a year, yet the dog never learnt because everytime he teach, he whack the dog! I never heard he is praising the dog. Then i seen lots of dog owners caging up their dogs and leash up their dogs by giving lots of excuses saying their dogs are bad behaved. But the fault is from the owner, dogs are smart and obeying. If the owners spend sufficient time, love, being patience and being consistence, i'm sure the dogs will be well trained! And they will give excuses say no time or watsoever hence they have to caged up or leash the dogs.

I would NEVER sell my puppy to such owner that intend to cage up, or leash up my puppies. I am a breeder, but i am a responsible dog owner that loves and care for my dogs too! I hate & look down on irresponsible and ignorance dog owners. They are the same, shouldnt own a dog at all. No matter you are a dog breeder or dog owner, BE RESPONSIBLE. It is equally bad for ANYBODY to mistreat their dogs, no matter they are breeder or not.

I believe to be a vet, you face the same situation too. Many will say many vets out there are money minded or blame a lot whenever they believe their dogs are mistreated, there are challenges. But i met lots of vet that earn respects from the other too! So no matter what your profession is, do it with integrity and i believe you will be one of the respected one, too.

Anyway, before things getting ways too serious, in real life we are very "cincai" people, if you want to pay us a visit, feel free to let us know, always welcome.

BTW, have you notice my request for your e-mail address? Mind giving me? TQ.







Regards,

Yang

(This post was edited by leecy on Oct 17, 2007, 12:00 PM)