RealityDreamer
Doggyman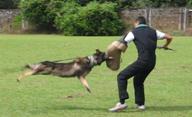 Sep 20, 2005, 4:04 AM


Views: 16990

Re: [SeanYoung] Help My GSD or Rather Help Me

---
Hi Sean,
I noe exactly how u feel as I hv an aggressive dog as well.If I socialised him,he would launch himself & lunge at other dogs. If I didn't,it would just get worse. What I did was gv one hard correction that he would remember for a long time & make him think twice before misbehaving.
I highly recommend getting a prong collar ( www.cobankopegi.com/prong.html ) It is a proven effective method of correction.
Instead of choking (which is very risky),the prong/pinch collar would just pinch the skin of the dog.
When he got aggressive,I just jerked him very very hard once while saying "no!" & that is all it takes. Bear in mind he is a bullmastiff.

Once he listens to u,u should socialise him,teaching him that other dogs r nothing to b aggressive abt. Start slow & work ur way frm there. In addition to that, I also got him to focus on me while other dogs are walking around him. Create not only a neutral environment,but a positive (happy=tail wagging,lol) one.

I forgot to add,always praise for good behaviour!

Good luck.


,-._,-.
\/)"(\/
(_o_)



(This post was edited by RealityDreamer on Sep 20, 2005, 4:08 AM)