phekling19
Member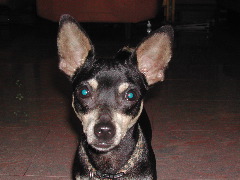 Sep 3, 2005, 7:10 PM


Views: 3866

Very disgusting...check it out!

---
This dog name Lulu, previously was a beautiful mix spitz and now look at her...



That's how my grandma's bloody neighbor abuses her until like that... Look at her leg, can see BONE! OMG...Last time my mum called vet and wanted to gave her treatment, however, she kept running and we couldnt catch her...so now

...that bloody idiot didnt want her and when she sleep in front of their house, they will use stick to beat her. Now what we can do only give her food and let her sleep near our garage there...poor thing!
A Hopeless Dog Lover and love dogs as if no tomorrow ...

NO CRUELTY TO ANIMALS


www.dogster.com/?188399.

(This post was edited by phekling19 on Sep 3, 2005, 7:20 PM)