Fi
Novice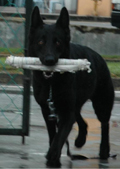 Apr 29, 2005, 6:24 PM


Views: 2903

Re: [Fi] I'll like to share.....

---


These are the picures I will like to share with everyone out here. Hope you enjoy it.

The 3 pictures show Kelly is practising her jumping loop.

After being trained, I don't have to use a leash to bring Kelly for a walk, she will be so sensitive to what I say and do. She will not bark at others dog nor gets out of attention.

I'm so proud of her.



(This post was edited by Fi on Apr 29, 2005, 6:26 PM)